Source details

Journal Title
Initials
Abbreviation
DOI
ISSN (Online)
Editor-in-Chief
Managing Editor
Subjects Area

First Published
Frequency
Publisher
City
Country
Latitude
Longitude
Contact



Jurnal USAHA
JUUK
j.usaha
Prefix 10.30998 by 
2746-2471
Tedy Ardiansyah
Berta Dian Theodora
1. Enterpreneurship Education
2. Enterpreneurship
June 2020 (On Going)
Biannually
Universitas Indraprasta PGRI
Jakarta
Indonesia  
-6.2979
106.8502
jurnal.usaha@unindra.ac.id
Jurnal USAHA has been published since 2020, which is an achievement for a peer-reviewed journal that has excellent management and publication quality. Authors who intend to submit manuscripts for publication in this journal must properly understand the instructions and the ins and outs of the provisions in this journal. For authors who have never published articles in this journal, we recommend reading all the terms and conditions listed in the journal.
The author who will submit the manuscript after the deadline for submission as long as meet the requirement for publication in this journal will process for the next issue. The paper submission and reviewing procedures in JURNAL USAHA will be processed with the web-based system via the Open Journal System (OJS) by Public Knowledge Project (PKP). We strongly prefer to receive manuscripts via our online submission system. By using our OJS system, authors can upload manuscript files (text, figures, and supplementary information) directly to our office and check on the status of Reviews their manuscripts during the review process.
Authors are requested to prepare a manuscript by the Instructions for the preparation of the manuscript and then to follow the Author Guidelines for submission. Before the manuscript is submitted to the editorial team, please make sure that your paper is prepared and refer to JURNAL USAHA for writing format and style (Please download the template for the initial manuscript submission). This will ensure fast processing and publication. Any papers not fulfilling the requirements based on the guidelines to authors with great regret will not be processed.
Accepted papers will be freely accessed on this website and the following abstracting & indexing databases: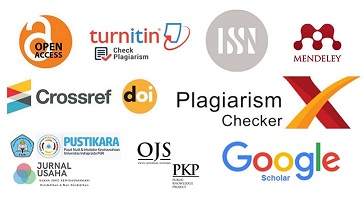 Before submission, please make sure that your paper is prepared using the journal paper template Online Submissions
Already have a Username/Password for JURNAL USAHA
Need a Username/Password?
Registration and login are required to submit items online and to check the status of current submissions
Announcements
Jurnal Usaha Call Paper Vol 4 No.2 Dec 2023

Jurnal Usaha Call Paper Vol 4 No.2 Dec 2023

Posted: 2023-07-20
Vol 4, No 1 (2023): Juni
Table of Contents
Articles
|

Abstract Views:

297 | PDF Views: 287

Khalifah Sholihah, Agus Wibowo, Karunia Dianta

1-19
|

Abstract Views:

349 | PDF Views: 323

Tasya Mahira, Hanna Alia, Annisa Salsabila, Trie Ananda Harwiya, Celia Nurul Amalina, Muhammad Ivan Noor Salim, Rita Ningsih, Westri Andayanti

20-38
|

Abstract Views:

303 | PDF Views: 246

Restu Adhitama Putra, Cristiana dewi, Restu habiba, Rifa Zahra, Sabilla Ayuning Lalistya, Sayyida nafisa, Rita ningsih

39-45
|

Abstract Views:

232 | PDF Views: 490

Annisa Nada Nabilah, Burhanudin Burhanudin, Dona Fitria

46-54
|

Abstract Views:

300 | PDF Views: 469

Rifki Bahrul Ulumudin, Tedy Ardiansyah

55-65
|

Abstract Views:

374 | PDF Views: 309

Anggi Wulandari Nariyah, Tedy Ardiansyah

65-75
|

Abstract Views:

168 | PDF Views: 152

FRYDA AULIA WARDANI, Tedy Ardiansyah

75-85
|

Abstract Views:

239 | PDF Views: 261

Vivi Setiya Anggraini, Tedy Ardiansyah

86-94
|

Abstract Views:

241 | PDF Views: 220

Dipa Teruna, Asyari Asyari, Suadi Sapta Putra

95-109
|

Abstract Views:

349 | PDF Views: 427

Endah Putri Lestari, Ahmad Nadzaruddin, Irma Santika, Muthia Rahman, Usmirah -, Rita Ningsih

110-118