Source details

Journal Title
Initials
Abbreviation
DOI
ISSN (Electronic)
ISSN (Print)
Editor-in-Chief
Managing Editor
Subjects Area
First Published
Frequency
Publisher
City
Country
Latitude
Longitude
Contact

 

GANDIWA Jurnal Komunikasi
G
GJK
Prefix 10.30998 by 
2798-5180
2798-5970
Nurhablisyah
Atiek Nur Hidayati
Communication Science
June 2021 (On Going)
June and December
Universitas Indraprasta PGRI
Jakarta
Indonesia  
-6.2979
106.8502
jurnalgandiwa.unindra@gmail.com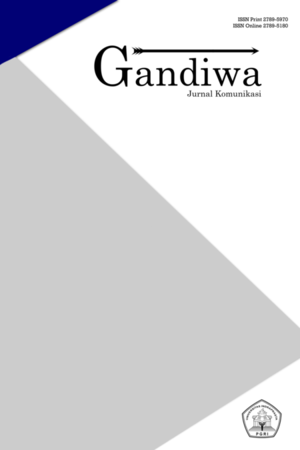 GANDIWA Jurnal Komunikasi focuses on publishing articles in the form of assessments for all aspects including recent research reports, conceptual ideas, using qualitative and quantitative research methods approaches in the field of communication in various perspectives.
The scope of this journal includes media studies, communication strategies, digital media marketing, political communication, and public relations.
Publish your article on GANDIWA: Jurnal Komunikasi 
WITHOUT ANY CHARGES
Authors are requested to prepare a manuscript in accordance with the Instructions for preparation of manuscript and then to follow the Author Guidelines for submission.
We strongly prefer to receive manuscripts via our online submission system. With using our system, authors can upload manuscript files (text, figures, and supplementary information) directly to our office and check on the status of Reviews their manuscripts during the review process.
Registration and login are required to submit items online and to check the status of current submissions. 
Click:
Register or
Login
Publishing Open Access (OA) in a GANDIWA Jurnal Komunikasi means researchers benefit from:
(1) Increased citation and usage, (2) Greater public engagement, (3) Increase the visibility and readership of your research, (4) Wider collaboration, (5) Increased interdisciplinary conversation, (6) You(r) retain copyright, licensed under Creative Commons, (7) Promotion and publicity of quality research, (8) Avoiding duplication, and; (9) Comply with funder mandates.
GANDIWA Jurnal Komunikasi are indexed by the following abstracting and indexing services.
Garuda 
Crossref
Indonesia One Search (National Library)
Dimensions

Scilit
Wizdom.ai
Announcements
No announcements have been published.
Vol 3, No 1 (2023): Gandiwa Jurnal Komunikasi